What is Cashew Kernel?
Cashew Kernel (or: raw cashew kernels, cashew kernels, cashew kernal) meaning is the name of the raw cashew nuts after going through the Processing of cashew nuts. After Peeling Hardshell outside, the cashew kernel has been grading them carefully to superior standards required by top food companies all over the world. Example: Vietnam's W320 & W240 are the most popular cashew kernels, their export volumes increase year by year. Cashew kernels are often used in processed products like chocolate and nut butter. Cashew kernels are also used to make cashew nut butter, cashew butter, cashew powder, cashew flour, cashew milk, and cashew cream. Cashew kernels are also used to make vinegar or used as a flavoring for soups and salads.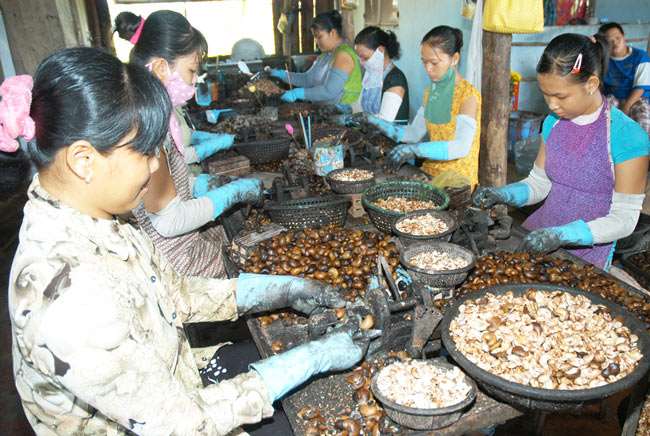 What is Raw Cashew Nut?
The Raw Cashew Nut (known as RCN, Cashew nut Shell-on, Cashew nut in a shell, Cashew nuts) is the name of the cashew apple's sub-nut. Although a cashew apple contains 90 % of the fruit, only 10 % is a Raw Cashew nut. A single Raw Cashew Nut has 30% cashew kernels and 70% cashew shell. Normally, 1 ton of raw cashew nuts can process 250-300 kg of the cashew kernels and 700-750 kg of the cashew shells. In the past, only the Raw Cashew nut (RCN) and Cashew Kernels are being used as commercial products in the Vietnam cashew nut industry, and cashew shells are considered waste. Today, the cashew shells are used to produce CNSL (cashew nut shell liquid), a raw material used in other industries, opening up a market of hundreds of millions of dollars per year.
=> More About Vietnam Raw Cashew Nuts:
The Cashew Apples contain:

Difference Between Raw Cashew Nuts VS Cashew Kernels?